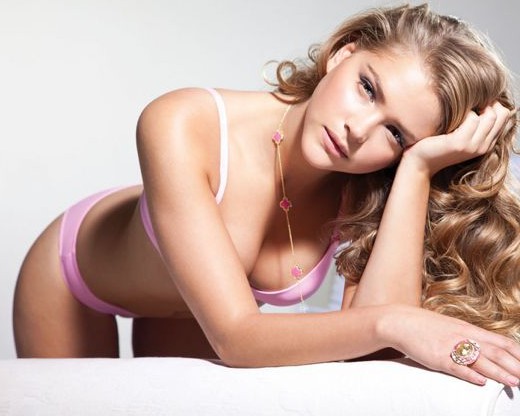 Jun

03
Tags
Related Posts
Share This
Hot Blonde Model Esti Ginzburg
Today's hot blonde is a very sexy lingerie model named Esti Ginzburg. Esti is a beautiful 22 year old Israeli blonde who has modeled clothing and lingerie for companies like Tommy Hilfiger, Castro, and a whopping three years of the Sports Illustrated Swimsuit Issue. Starting at just eight years old, she began modeling with a milk advertisement and six years later signed a contract with the modeling agency named Elite Models. At just sixteen years old, Esti Ginzburg replaced a four year covergirl named Yael Bar Zohar by signing a two year deal with the Israeli firm named Fox and in the February – March issue of the French version of ELLE magazine in 2007, she was the cover girl! She is the next most well-known Israeli swimsuit model to Bar Rafaeli.
Esti Ginzburg was drafted into the army in 2009 but later that year she made many headlines by criticizing a fellow Israeli model for avoiding being drafted into the military by marrying a family friend for a short amount of time. When Ginzburg joined the army, she said that military service is part of the things that she believes in, personally. This is one hell of a hot, sexy stand-up model!
Hot blondes like Esti Ginzburg seem to come one in a million. We love to see babes like this, but to see a truly beautiful blonde girl like Esti that isn't fake as fuck like other blondes who get plastic surgery and botox etc is getting harder and harder in this day and age. One thing that we have noticed is that there are hardly any naturally sexy and erotic-looking blondes here in America; normally you have to travel overseas to see babes like Esti. So, enjoy the photo that we've grabbed of her.